Additions to My Cherokee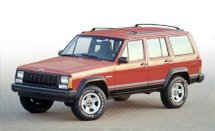 A picture of my "Baby"


Unfortunately I have not been able to put many additions onto my Cherokee because of my serious lack of funds. I have been able to mooch some money from my parents to put a few basic necessities on my Cherokee, which I've listed below. My recent accident, though, put me about $920 in the hole, so the additions to my Cherokee wont be coming soon. :(

The specs for My Jeep Cherokee are listed below.
| | |
| --- | --- |
| Wheelbase | 101.4 inches |
| Engine | 244 cu inches/ 4.0L |
| Cylinders | I-6 gasoline |
| Output | 184bhp @ 4750rpm |
| Torque | 214 feet-pounds @ 3950 rpm |
| Transmission | 4-speed automatic |
| Transfer Box | two ratio |
| 4 Wheel Drive | selec-trac (part-time) |
| Final drive | 3.55:1- rear limited slip differential |
| Front suspension | live beam axle on coil springs |
| Rear suspension | Live beam axle on leaf springs |
| Brakes(front/rear) | disc/drum no ABS |
| Wheels | 16in. x 7in. |
| Base tires | 27in. x 7.5in. BF Goodrich H/W |
| Turning Circle | 32.6 feet |
As I have said before the only upgrades for my Jeep Cherokee were funded by my parents, so they are not that exciting.
First I got a class 3 hitch-- a nice thing to have even if you don't need it, it can get you out of many tough jams.
Second I got an oil pan heater-- a necessity for those who live in colder climates. It heats the oil, which leads to better/faster cold starts and you get heat faster on those cold days. There is an electrical plug that comes out the radiator and plugs into any 120V outlet (very inobtrusive).
Third I now have the wrap around brush bar, by Manik. Very Cool!
Here is a list of stuff I plan to get for my Cherokee as soon as humanly possible:
soon-- 3in. Pro Comp suspension lift
not so soon-- 31 inch A/T tires, because my current 27in. H/W tires suck!
long long time-- Jacobs Electronics Omni Magnum, increases hp and gas mileage. Heard it was excellent by a few freinds.
probably never(but its fun to wish)--K&N air filter, increases airflow by 34%, which leads to better mileage and Power.