I have been informed that there is another page out there with the title JEEPLand, to avoid confusion i have changed the title of this page.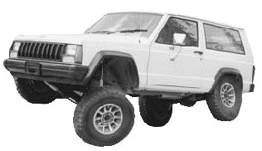 Alright guys, i am finally updating the site, but i am moving to someplace better! Click HERE...to go there.
Welcome to XJ Haven, your one stop for everything Cherokee. As a Cherokee owner I can understand how hard it can be to find a good site about the Jeep Cherokee XJ, well... look no more! This page includes a Tech site for those of you looking for answers to technical questions, but if you don't find your answer there, you can post a message on the JL Forum. This site also hosts information about my Cherokee XJ, and other XJ owner's Rigs, and trail info.
I bought my first, ans so far only, XJ May 1998, and ever since I've been hooked. I must admit that my XJ is a better trail maching right out of the box than most other built up rigs, so I felt that This amazing vehicle should have a web site dedicated to it.
Jeepers Have seen this page since 4/4/99.